My very first fanvid! Tells the story of Fraser thinking about his feelings for Ray
Wade's Unicorn (Fanart)
(0 words) by
look_turtles
Chapters: 1/1
Fandom:
Deadpool (Movieverse)
,
Deadpool - All Media Types
Rating: General Audiences
Warnings: No Archive Warnings Apply
Relationships: Nathan Summers/Wade Wilson
Summary:
Wade and Nate ride Wade's unicorn
An: The unicorn's tail and mane are the colors of the pansexual flag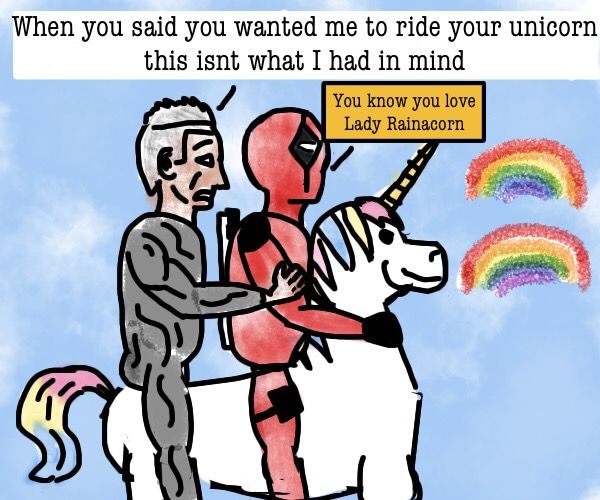 I've been thinking about making fanvids and was wondering if anyone has any suggestions for the kind of movie making software I should use.
AUTHOR: Love_jackianto
FANDOM: Due South
CHARACTERS: Ante, Maria and Pop
PAIRING: Frannie/Turnbull
GENRE: Het
PROMPT: Frannie/Turnbull. A summer day on the Lake Michigan beach.
RATING: G
WORD COUNT: 1,647
SUMMARY: While at the beach, Frannie waits for the perfect moment
WARNINGS:
NOTES: Also
here at AO3
DISCLAIMER: I don't own these characters, nor am I making any money from them. I merely borrow them from time to time.
(
due south
Collapse
)
TITLE: The Perfect Moment
Waiting
(0 words) by
look_turtles
Chapters: 1/1
Fandom:
Person of Interest (TV)
,
due South
Rating: General Audiences
Warnings: Major Character Death
Characters: Diefenbaker
Summary:
Someone is waiting for Bear as he crosses the rainbow bridge
An: In honor of Boker (Bear) who recently passed away, I wanted to make some Fanart.
The rainbow bridge is what animals cross when they die.


As a gay guy I REALLY APPRECIATE that Cable had the obligatory shirtless scene. Seriously, he didn't NEED to be shirtless to fix his gun. I bet Deadpool would like appreciate too ;)
As a feminist I really appreciate that none of the women in Deadpool 2 had an obligatory shirtless scene.
Icepool (fanart)
(0 words) by
look_turtles
Chapters: 1/1
Fandom:
Deadpool - All Media Types
,
Deadpool (Movieverse)
Rating: General Audiences
Warnings: No Archive Warnings Apply
Characters: Domino (Neena Thurman), Deadpool (Wade Wilson), Cable (Nate Summers)
Summary:
Deadpool, Cable and Domino as icecream Au
Deadpool (Fanart)
(0 words) by
look_turtles
Chapters: 1/1
Fandom:
Deadpool - All Media Types
,
Deadpool (Movieverse)
Rating: General Audiences
Warnings: No Archive Warnings Apply
Characters: Wade Wilson
Summary:
Deadpool digital painting
An: Inspired by Deadpool 2. The background is the colors of the pansexual flag